Today we celebrate René Paulsen for his amazing 25 years at Priess A/S 🎉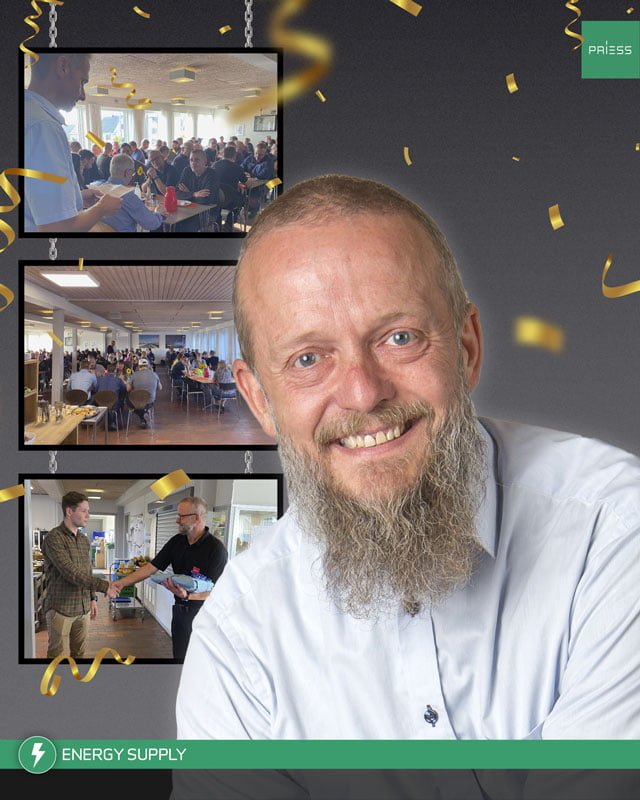 René's dedication and commitment has been a crucial part of our journey and we are incredibly grateful for his contribution to our company.

René began his career as a trained electronics mechanic at Holstebro Hospital in 1989 – the same year the Berlin Wall fell! A funny coincidence that reminds us of both René's professional success and world history.

In 1998, René started his career at Priess. And that quickly turned out to be a huge scoop for us. He has been through an exciting development here, from electrical assembly and panel assembly to foreman responsibility, production planning and being an important part of operations. His versatility and ability to tackle challenges has always impressed us!

Today, René works with bills of materials and routes within energy supply, and his positive influence on our company is evident in the changes and growth we've undergone in recent years.
As is tradition, René has received a watch as a token of recognition for his tireless efforts.

Congratulations René, we salute you for your incredible 25-year journey at Priess A/S – and the journey is not over yet!

THANK YOU FOR YOUR DEDICATION AND EFFORT, RENÉ!